---
The MCS method is K-greedy algorithm which simultaneously grows K different common substructures applying scoring and resorting on each step.
To display the interactive MCS dendrogram:
Read in a chemical spreadsheet.
Chemistry/MCS Dendrogram
Enter the name of the table you wish to analyze.
Enter the name of the column you wish to use to label the points in the dendrogram.
Choose Optimize MCS to minimize overlapping by branches in the tree.
Click OK and the dendrogram will be displayed on the right hand side panel.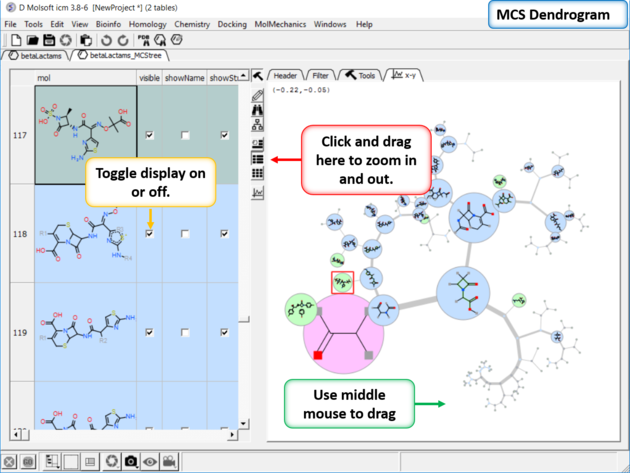 You can display and undisplay the points and labels by using the check boxes in the columns "visible", "showName" and "showStr". You can right click on the column and choose (un)check all. Points in the dendrogram are fully interactive and linked to the table. You can zoom and translate the plot around the space. The points are colored by > blue = common substructure, green = original compounds pink = root (most common)
---