---
[ Pairwise APF Superposition | Flexible APF Superposition to Template | Multiple APF Superposition ]
NOTE: The APF superposition method should be used when there is no common substructure between the chemicals that are being superimposed. If a common substructure is present then the substructure superposition methods described earlier should be used. The APF method will superimpose moieties that have similar 3D pharmacophoric properties.
The Atomic Property Fields (APF) superposition/alignment method was first reported by Maxim Totrov PhD (Principal Scientist - MolSoft) at the 2007 233rd American Chemical Society National Meeting, Chicago, IL USA and then published here.
APF is a 3D pharmacophoric potential implemented on a grid. APF can be generated from one or multiple ligands and seven properties are assigned from empiric physico-chemical components (hydrogen bond donors, acceptors, Sp2 hybridization, lipophilicity, size, electropositive/negative and charge).Here we describe template APF superposition whereby the APF is generated from a single or multiple template and is then globally optimized with the internal force-field energy of the ligand.
10.36.1 Pairwise APF Alignment/Superposition
This option allows you to superimipose two chemicals by APF.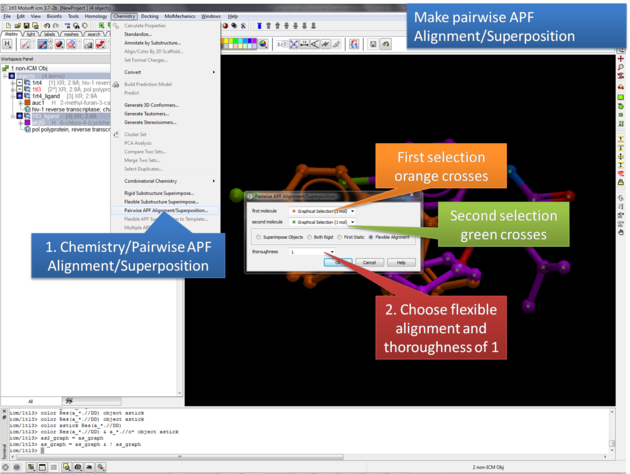 10.36.2 Flexible APF Superposition to Template
To perform Flexible APF Superposition to a template: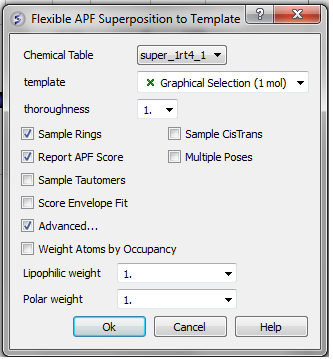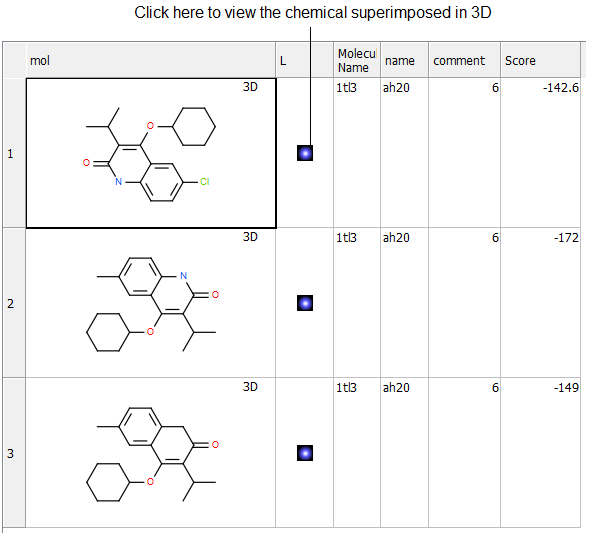 10.36.3 Multiple APF Alignment of Compounds in a Table
To superimpose multiple chemicals in a chemical table by the APF method: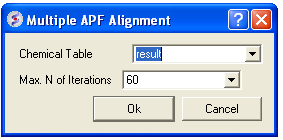 The 3D coordinates can be extracted to a chemical spreadsheet as described here.
---