---
[ UniProt | Cut and Paste | Extract from PDB | From File | Save Sequence ]
Available in the following product(s): ICM-Pro
There are a number of different ways to load a sequence into ICM via the Graphical User Interface.
8.1.1 Read a Sequence from UniProt
Uniprot is a curated protein sequence database which provides a high level of annotation (such as the description of the function of a protein, its domains structure, post-translational modifications, variants, etc.).
To read a sequence from UniProt:
File/Load/UniProt
Enter UniProt ID
or use the option in the Search Tab.
8.1.2 Cut and Paste a Sequence
Paste your own sequence into ICM
File/New/Sequence
Paste the Sequence into the box provided.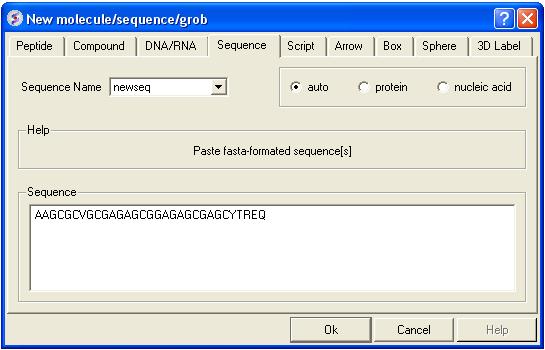 8.1.3 Extract a Sequence from a PDB File
Extract a Sequence from a PDB file
Right click on a molecule in a loaded PDB file in the ICM Workspace.
Select Extract Sequence(s) and the sequence will be laoded into the Sequences section of the ICM Workspace.
8.1.4 Read directly from a Sequence File
To read a sequence from a file:
If you have a sequence file saved in FASTA format it can be read into ICM by:
To save a sequence in FASTA format:
Right click on the sequence name in the ICM worksapce.
Select the option Save As.
Choose FASTA format from the Windows "Save as type:" drop down menu option.
---