---
Available in the following product(s): ICM-Pro
Once a molecular model has been constructed it is generally a good idea to analyze it using the Protein Health macro. The results from protein health will indicate which part of the molecule is strained or has unusual geometry. A way of solving these problems is to refine or optimize the side-chains. Other ways to minimize or optimize the structure are avaialble in the MolMechanics/Minimize menu.
To refine or optimize a selection of side chains the structure needs to be an ICM object.
Make a selection of the side chains you wish to optimize. See how to make selections section.
Right click on the selection in the graphical display. A selection will be displayed as green crosses.
Select from the right click menu Advanced/Optimize Side Chains and a data entry box as shown below will be displayed.
Enter the number of calls per variable you wish to use for the simulation. For more details on this please see the ICM language manual.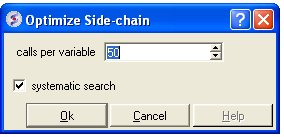 A stack of energy conformations will be displayed in a table. Each conformation can be viewed simply by clicking in the table.
---