May 20 2013 Feedback.
---
KNIME (Konstanz Information Miner) is a user-friendly and comprehensive open-source data integration, processing, analysis, and exploration platform.Currently we have KNIME nodes for the following ICM functions:
2d3d conversion
conformation generator (_confGen)
flexible APF superposition (_chemSuper)
docking (_dockScan and _dockProjPrep)
To use ICM in KNIME
Download KNIME from www.knime.org
In KNIME go to File/Install KNIME extensions and search for and select the KNIME Base Chemisty Types and Nodes. When you do this you will see a Chemistry directory in the Node Repository.
Download MolSoft's KNIME Java file http://www.molsoft.com/distrib/3.7-3a/com.molsoft.Icm_1.0.0.jar (contact Molsoft for user name and password) and copy it into the KNIME plugins directory.
Here is an example for Structure-based virtual ligand screening in KNIME: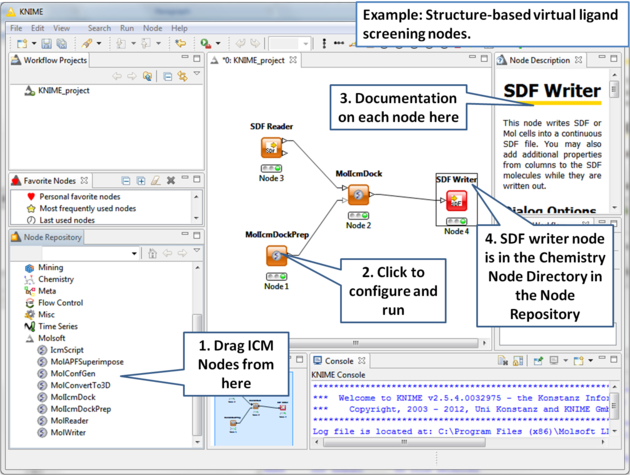 ---