---
To calculate chemical properties for compounds within a chemical table:
Read in the chemical table.
Select Chemistry/Calculate Properties and a window as shown below will be displayed.
Arguments - usually the column with the chemical structure is called mol. If this is not the case click on the drop down button and select the correct column.
New column location - select where you would like to insert the new columns.
New column name - This option is usually greyed out but the column name will be the same as the property name.
Select the properties you wish to calculate using the 'tick' check boxes.
Click OK and the properties will be added as new columns in the chemical table.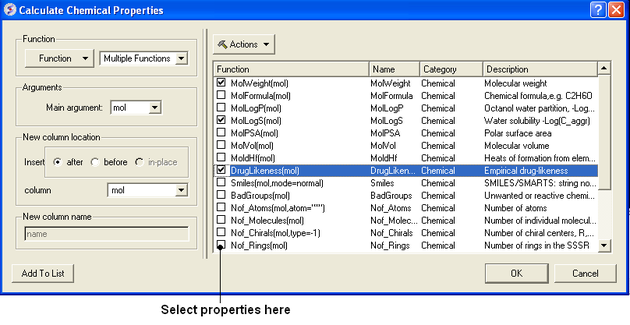 Actions Button Helps with Selections
If you click on the drop down button labeled Actions you will see 3 selection options:
Select All properties.
Uncheck selected options.
Remove unchecked.
---