ICM Manual v.3.9
by Ruben Abagyan,Eugene Raush and Max Totrov
Copyright &copy 2020, Molsoft LLC
Nov 28 2023
---
[ base | ball | beta | blob | boundary element | BPMC | bfactor ]


Use option base to display cartoon representations of the bases on the DNA/RNA ribbons. In DNA and RNA ribbons, bases can be displayed/colored separately from the ribbon itself (e.g. color ribbon base a_1/* white ), the default coloring being A-red, C-cyan, G-blue, T or U-gold.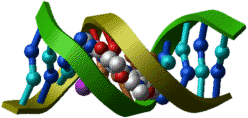 ---


a solid sphere representing an atom in the graphics window. Its size is defined by the GRAPHICS.ballRadius ICM-shell variable.
Examples:
 
 display ball a_//ca         # does not make much sense  

See also: xstick
---


an extended conformation ("E" in one-character notation). Referred to as 'b' in variable restraint names: e.g. beta-zone for alanine is called "ab".
See also: assign sstructure , set vrestraint and file icm.rst .
---
Binary Large OBject (BLOB) can be used to store binary data. Blob can created by using read blob command or Blob function.
Example:

read blob "somebinary.icb" name="buf"
Length(buf)
String(buf,'base64')  # to base64
String(buf,'hex')     # to hex
read binary input=buf  # read ICB



See REBEL . See also: electroMethod, delete boundary, show energy", term "el", Potential( ).
---


is an acronym for the Biased Probability Monte Carlo method ( Abagyan and Totrov, 1994 ). The method is based on a theorem establishing that if the Monte Carlo procedure is used for global optimization, rather than generation of a Boltzmann ensemble, random moves based on known local probability distributions (e.g. alpha and beta regions for peptide backbone conformations) maximize the optimization efficiency. Practically, the procedure randomly chooses a group of coupled angles and changes them according to probabilities defined in the icm.rst file. Do not forget to use the set vrestraint a_/* command before the montecarlo command to activate the biasing.




Crystallographic B-factor, also known as Debye–Waller factor or the temperature factor. In models stored in PDB each atom has this parameter assigned along with x,y,z and occupancy. Defined as 8π2 <u2> and measured in units of Å2 .

---