---
To edit a ligand:
Display hydrogens using the hydrogen display button.
Click on the Edit Tools Button and a panel of buttons will be displayed as shown below.
To edit an atom or bond, first click on the desired atom, group or bond in the panel and the click on the atom or bond which you want to modify in the graphical display.

See graphic below to understand what each button does.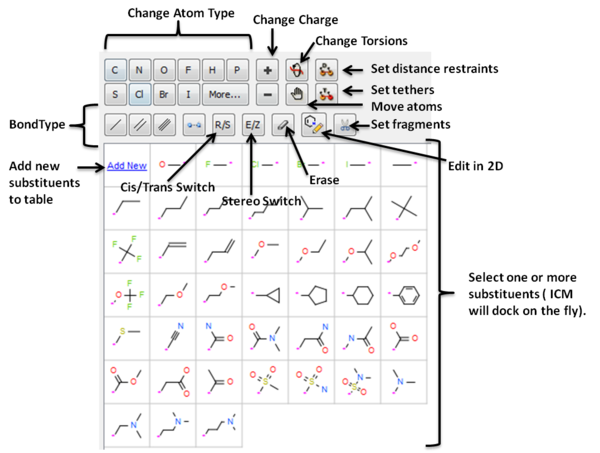 You can select more than one group. ICM will sample the energy of each group and return a table of the results ranked by binding score.
About the modifiers table
mol = 2D sketch of ligand with core substructure highlighted in green. Modifier group is not highlighted in green.
L = Click in box to display ligand with modifier group.
smiles = smiles string of modifier group
SubstScore = Score for modifier group only
Score = Score of whole ligand including modifier group
MolLogP = Predicted LogP
MolLogS = Predicted LogPredicted LogSS
MoldHf = Preidction model build for 'delta Hf in gas' property. using public NIST database. Description can be found: http://webbook.nist.gov A low dHf value means that the compound is more 'stable'.
MolPSA = Polar Surface Area
Volume = Volume of ligand.
---